Day 92: Andrew Gold (Lonely Boy)
July 27, 2020
Andrew Gold's "Lonely Boy" was one of the catchiest songs of 1976.  Great piano melody combined with engaging narrative, a surefire Top 10 hit.  At a time when the story song still resonated with the "singer-songwriter" community (Jim Croce, Harry Chapin), "Lonely Boy" offered me a harder edged story that I latched on to, racing out to buy Gold's album.
I remember thinking that the main characters in the narrative were so old because the boy was born in 1951 and the sister in 1953. Apparently Gold used the actual years (and even seasons) that aligned with his birthday and his sister's, so he spent years trying to convince people he wasn't the "lonely boy." Even at 14, I understood enough about authorial license to know that the story wasn't necessarily the singer's. Besides, the essential line "when they said he was an only son/he thought he was the only one" is just too perfect of a literary epigram. Everything seemed built around that clever line; alas, many listeners must have wanted to see more in the song.

This is why the title of the album that had "Lonely Boy," What's Wrong With This Picture, is so appropriate. For me it was a title I didn't know if I should take literally or not. Were there actual impossibilities in the picture, or was the title a figure of speech, rich musician surrounded by all sorts of possessions, asking himself why that wasn't enough to make him happy?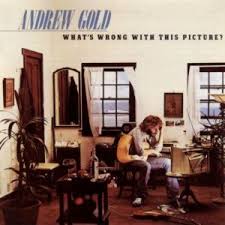 At 14, when I bought the album, I was of the age to love the "find the differences in the pictures" kinds of games found in many magazines. I must have been pretty dense, though, because I wasn't so sure I saw anything wrong in the album cover. Turns out that there are a lot of things actually wrong with the picture (drapes wafting from a breeze coming through a close window; chair legs that don't touch the floor; and so forth), but pubescent David wasn't seeing them.
More truthfully, I think I wanted the title to be metaphorical, to have title and cover photograph reflect upon Gold's loneliness. After all, "Lonely Boy" was the album's signature song. At best one or two other songs stood out for me, especially among the three cover songs that bored me, especially "Doo Wah Diddy" and "Stay." While I may not have held Gold to the standard of his biggest hit's narrative, I held him to other unfair standards.

Truth of the matter, there were many things wrong with my picture of Andrew Gold:
1) I had no idea at the time that he might as well have been Linda Ronstadt's back-up band. On her 1974 album Heart Like A Wheel, he played piano, guitar, drums, percussion, ukulele, and sang back up. His is the guitar solo on Ronstadt's huge hit "You're No Good." As was the case with so many L.A. session musicians of the 1970's, they eventually got to make their own records.
2) Even though Gold is shown with a guitar on the cover, I associated him more with the piano, especially because the piano riff on "Lonely Boy" is such a great hook, the glue that holds together great synthesizer, guitar, and drum fills.
3) Despite his guitar prowess for Ronstadt, the signature lead guitar on "Lonely Girl" was provided by Waddy Wachtel, the consummate L.A. session musician supporting Jackson Browne, Warren Zevon, Stevie Nicks, Iggy Pop, Bryan Ferry, and more.
4) While Gold is not a one-hit wonder, as his "Thank You For Being A Friend," aka The Golden Girls theme song, cracked the top 40 (to be truthful his version wasn't the theme song, which is too bad because it would have been Gold's Girls).  What I didn't know is that he is not even a one-sitcom wonder, having also composed "Final Frontier," aka Mad About You theme.

5) Gold and his band produced chilling live performances of this song, belying even more my view that he belonged in the same category as Harry Chapin. Even though the song is raucous on the album, so much of the rest of What's Wrong With This Picture was too laid back. However, the link below is to Gold's performance of the song on The Midnight Special, and it is electric. It is obviously live: Wachtel (standing to the far left) is clearly playing the song live, providing a choppy guitar lick that sounds smoother on the album, and a reminder again of why live is often better. You can hear each instrument distinctly as live, something that even for other Midnight Special clips is not evident.

Listen through the entire bridge here. It is great musicianship, and if Big Audio Dynamite II seemed to mock bridges, Gold's band erects the Golden Gate version, with lots of flash. Guitar and keyboards, both grand piano and electric piano, alternate with the melody; Waddy Wachtel rips through a fantastic solo before he distorts a lovely up-the-neck screech. Gold's verbal insertions to the bridge, "goodbye, Mama, goodbye you, goodbye papa, I'm pushing on through" fight to hold their own among the instrumentation, Gold's voice pushing on through.

Even for the close out of the song, assuming the band is the same as who appeared on the album track, Mike Botts' drumming at the end of the song is beautiful. A perfect single, made even more grand by the live performance.  All of that to remind you that pinhead record execs are idiots. The single version edited out Gold's "goodbye Mama, goodbye you" part of the bridge and faded out the closing to an abrupt conclusion.

For those executives, they were denser than me in not seeing what's wrong with this picture.
"Lonely Boy." Andrew Gold. What's Wrong With This Picture. Asylum. 1976. Link here.
Day 91: Men At Work "Overkill."
Day 93: Suzanne Vega "Luka." ->
See full unfinished list here.