Day 147: Nine Inch Nails (Every Day Is Exactly The Same)
May 23, 2022
Some people fantasized about mail order brides. Music lovers in the 1980s, 1990s, and early 2000s dreamed about mail-order music clubs.  Come on, be honest with me, if I mention the names "Columbia House" or "BMG," your tongue gets moist thinking about licking a stamp for The Bangles' Different Light, The Police's Synchronicity or Paul Simon's Graceland.
Admit it, you would see this post-card-type insert in your local entertainment magazine and your heartbeat raced while your palms sweated.  12 for a penny!  Sure, I might need to pick Bryan Adams for the 12th album, but what a steal!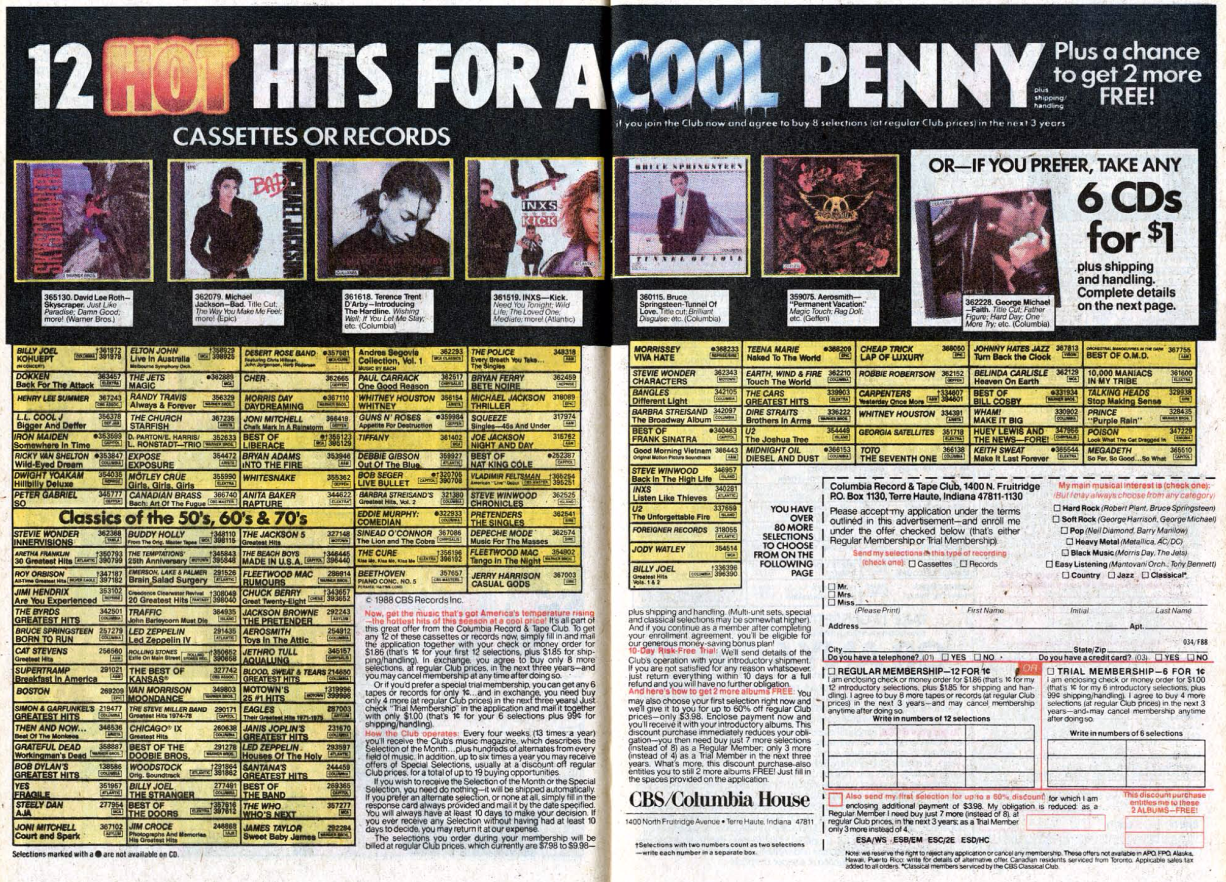 Like many in my age group, I bounced back and forth between Columbia House and BMG for years, building my collection, paying off my servitude over a few years, and then picking another 12-for-a-penny with the other company for a few years.  Until recently, I hadn't really given when I quit both of them a second thought.  Then, I hear Nine Inch Nails' "Every Day Is Exactly The Same," and I remember.  Because with [WITH_TEETH], the Nails' 2005 release, it stopped.
I had failed to mail the "not interested" card back and a month later I was staring at a stark CD with little interest in hearing it. [WITH_TEETH] wasn't the first time I had received a CD that I had little interest in, but somehow it represented the end. Given that it would have been 2005 (since the release of the month was almost always current with both BMG and Columbia House), it would have meant that at age 43, I had moved past the age where I randomly tried anything new and different. It also would have given me close to 15 years to back-fill my albums via CDs (REM's 1991 Out Of Time is the last album I ever bought). I suspect I couldn't choose 2 CDs, let alone 12.

The BMG bar code identifier is still on the back of my copy of [WITH_TEETH], as it is with all other BMG music I bought, or got for free. Did Columbia House do the same? I don't remember and have no interest in hunting through my collection. I actually have the CD/DVD dual-sided combo of [WITH_TEETH], not that I have watched the DVD more than a couple of times. Nine Inch Nails' songs were disturbing enough, the videos could likely create nightmares.
At the time, most of the press for [WITH_TEETH] panned the album, mostly for a lack of originality. Having read that, and being a little irked by the pretentious presentation of the album's title, I tucked my copy into my CD collection right next to my only New Radicals' CD (also with BMG bar code identifier), paid my bill and cancelled my subscription to BMG, never looking back. Well, at least never looking back at the club.
Over time I did listen to the CD some, and I quickly came to understand that "Every Day Is Exactly The Same" was precisely the point the critics had missed.
"Every Day Is Exactly The Same" starts with a great lyrical premise: "I believe I can see the future/because I repeat the same routine," set up by the kind of white noise that characterized the little bit of Nine Inch Nails I knew at the time (or still know). Trent Reznor has announced he is ready to repeat the same routine. The song will lay out what every creative person dreads. Art becomes a trap: "I think I used to have a voice" is a pretty devastating self-revelation, especially for a singer. Anyone who has a bone of creation can understand the line that "sometimes I think I'm happy here/sometimes yet I pretend." Heck, I am well past 1/3 or this 365-artists' series, and there are many days I felt I just pretended.

The final verse ends with "I wish this could have been any other way/I just don't what else I can do," a testament to a dead-end rut that rings true for many of us, obligation weighing down on us like a 60-ton weight.

Eventually, the chorus does become the hook in the head: "Everrry day is exactly the same/there is no love here and there is no pain." It's a rather pathetic observation. Many claim the song speaks of Reznor's drug addiction, but it feels worse: it's an addiction to the creative realm he no longer takes pleasure in.

In the long run, I assumed NIN were destined to the fate of the "mail order music clubs," neither to survive much past 2005. I was wrong about the band, as they (as much as Reznor and whomever he recruits can be called a "band") continue to make music. It wasn't as easy to confirm the fate of BMG/Columbia House.

I assumed these mail order music clubs were long gone, having no way to survive an era of downloads. You could be mistaken because the BMG music club has a rather active page on the internet that suggests you can still get "12 CDs for the price of 1."
https://www.columbiahousedeals.com/bmg-music/
Despite the copyright on the page going up to 2022, if you go to click on "Choose CDs," you get a page informing you that "Unfortunately, BMG Music Club closed it's [sic] doors for new memberships in 2009."
Thank God, as I really was beginning to think that every day is exactly the same. Certainly the misuse of the apostrophe suggests nothing ever changes.

Nine Inch Nails. "Every Day Is Exactly The Same." [WITH_TEETH]. Interscope. 2005. Link here.
Day 146: Yvonne Elliman. "Everything's Alright."

Day 148: The Inspirational Choir Of The Pentecostal First Born Church Of The Lord. "Pick Me Up."
Unfinished list here.