Day 130: The Archies (Sugar Sugar)
September 3, 2020
Today's Episode of Behind The Music is sponsored by Pandora radio, because apparently its algorithms are set to play Journey ad nauseaum, with today's featured artist, The Archies, rarely neglected.
Who were The Archies? What are the sordid stories behind the animated ruffians? Was Jughead really Shaggy's brother? Was the debut album cover initially censored because Betty and Veronica showed too much thigh?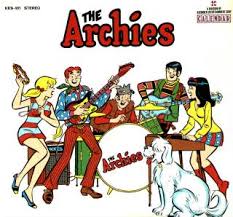 Stay tuned for the hidden story.
First, a word from our sponsor, Pandora. "Faithfully Don't Stop Believin' Anyway You Want It Who's Crying Now."
And we're back. You all know the song. It was all over the pop charts 1969: "Sugar Sugar." For all of us born in the early in 1960's, The Archies were our entree into popular music. Feel some pity for us, please.

"I just can't believe the loveliness of loving you/I just can't believe it's true.
With that simple line, an entire generation fell in love with the five Riverdale teens and their snow-white dog. That summer everyone's girl was our "candy girl," and we all wanted to "pour a little sugar on it." Joe Elliott has denied repeatedly that "Sugar Sugar" was the impetus for Def Leppard's "Pour Some Sugar On Me," but he's always been pretty sketchy in his response to the direct question.
The song is so catchy that it was #1 on top of the charts for 4 weeks in 1969, and the stories about about how depraved drummer, Jughead, and bassist, Reggie, became following this unchartered success rivals the best rock-n-roll stories of depravity. Let's put it this way, the Led Zeppelin shark and the Ozzy Ozbourne bat have nothing on the Jughead Joliet Jackrabbit.  Rumor has it that the citizens of Joliet refuse to even talk about that cold December evening.

So who were the flesh and blood puppetmasters behind these animated rapscallions?
Start with Don Kirshner. Yes, that Don Kirshner, originator of an MTV before MTV could even spell.  Predating 1980's boy band Svengalis, Kirshner had the foresight to add beautiful, long-legged women to the boy band to create the hottest thing to come out of Riverdale since gold was discovered there in 1872.
Then you have Ron Dante, the voice behind Archie. Or, to make it more convoluted, as Wikipedia says, the "real life lead singer of the fictional cartoon band The Archies." Not just the singer of a fictional band, but the singer of a fictional, cartoon band. No wonder Ron spent the rest of his life cursing 'toons as if he was Eddie Valiant.
The Dr. Jeckyll to Jughead's Mr. Hyde was the very respected drummer, Gary Chester, who performed with The Lovin' Spoonful, The Coasters and The Monkees (I guess he was used to having a cartoon figure stand in for him). While Jughead was off deflowering half of Illinois, Chester was teaching his drumming style to a bevy of future stars: Kenny Aronoff, from John Mellencamp's band; and Max Weinberg, yes, the Mighty Max from The E Street Band and Late Night With Conan O'Brien, to name just two.
Veronica was the very sexy front for Ron Frangipane.  I was tempted to say Wikipedia doesn't even have anything on him (they don't particularly), but a quick search has found Ron, a Monmouth professor, has died from Coronavirus.  Jesus, I can't even get through a light-hearted, stupid blog without the damn virus undercutting any frivolity. RIP, Ron.
Dave Appell played guitar, which I guess made him Archie number two.  Are you confused yet?  Think "Archie's Place" Archie, not "All In The Family," Archie.  A little less obnoxious, a little more in tune with the public.  Appell cast aside his mysterious past as the silent hand behind Archies' guitar to produce some of Tony Orlando and Dawn's greatest hits ("Knock Three Times" and "Tie A Yellow Ribbon"). Hey, it was better than ending up being the uncredited drummer for The Monkees.
Finally, Joe Macho apparently provided the substance to Reggie. However, like that unspoken night in Joliet, his presence on "Sugar Sugar" is hard to document and not open to discussion. A page devoted entirely to his body of work, including performing on "Subterranean Homesick Blues," "Like A Rolling Stone," and "You Don't Mess Around With Jim," but not "Sugar Sugar," suggests he may have left his past in that Joliet Holiday Inn.

Oh, and then how can I forget? The hand claps. Always so crucial to a pop hit like "Sugar Sugar." Who was the hand artist behind the scenes? None other than Ray Stevens. Yes, "they just called it The Streak," Ray Stevens.
I think we now know who led The Archies into their hedonistic ways. It's a match as fascinating as when The Beatles met The Dalai Lama. But that will have to wait for another day. After all, you haven't heard "Open Arms" in at least 20 minutes.
"Sugar Sugar." The Archies. The Archies. Calendar Records. 1968. Link here.
P.S. The damn thing is that "Sugar Sugar" really is a catchy song.
Day 129. The The. "This Is The Day."
Day 131: The Cars "All Mixed Up."->
See full unfinished list here.