Day 126: The Golden Palominos (Buenos Aires)
August 30, 2020
When I started this series, I had hoped that maybe along the way I would expose some relatively unknown artist to a few more people. I have no idea if that is working, but whenever I occasionally dip into these more obscure artists, I think about how they often didn't make it easy to build audiences, even when they were dynamite musicians. I first alluded to that back on Day 13 with The Boo Radleys, who seemed to be their own worst enemies.
There is a certain pattern with a lot of these bands: a kind of camera shyness, an, I'm assuming, arrogance about not "playing the pop music game," an unwillingness to give record buyers too much information, use of obscure (perhaps even muffled) lyrics, and maybe a little too much eclecticism in the song choices.
All of that describes The Golden Palominos to a "T." The band primarily existed as the drummer/leader, Anton Fier, a couple of solid session players on bass and guitar, and then whomever Fier apparently called into the studio every time he wanted to record a song.  Information on the band, if you purchased the albums/cds, was sketchy. I have Visions of Excess and Thundering Herd, a double "best of" CD set. Visions of Excess reeked of irony, if by album cover alone: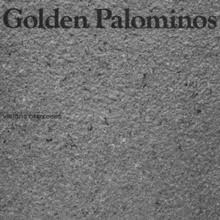 "Vision of Anything" might have been a more applicable title. The back side listed the songs, the usual technical information, and included a small picture of an unnamed man drinking a beer. I assumed it was Fier. As I remember the excess did not extend to the album sleeve either; probably standard white sleeve.
The Thundering Herd (and as a WVU alum, it pains me to even write that phrase) CD cover is fairly stark also, at least featuring a delicate pen and ink drawing of three horses with the backside listing the songs. The insert does have a brief summary of the band, but it is not clear who wrote it, probably not somebody with the band because it finishes with "we'll keep our fingers crossed and hopefully there will be a new offering from Golden Palominos in the near future."
The main reason I bought Visions of Excess is because Michael Stipe was the featured lead singer on two songs. And those songs, "Boy (Go)" and "Omaha" rocked, but it was the use of a fairly unknown singer at the time, Syd Straw, that really should have catapulted the Palominos to greater heights.
Straw's two songs, "(Kind Of) True" and "Buenos Aires," allowed her voice to weave its way around the music.  But, man, it was hard to know what the songs were actually about. 
I was desperate to know the lyrics to "Buenos Aires," but even now I can't find them on the internet, a real surprise given the wealth of lyric sites, which often don't even care if they can't get lyrics accurate.  The song has a certain exotic element that fits the remote nature of Buenos Aires. One gets sucked in by a fantastic front-of-the-mix drum sequence by Fier and hovering bass line by Bill Laswell. Once Straw gets singing, though, all hope for understanding the lyric disappears.
At best, it appears to be about a woman who wants to travel to Argentina. With Straw's wailing at the beginning, it is unclear how the lyric starts. Eventually the phrase "longing to go" emerges.  The clearest lyric regards her receipt of a letter that "didn't come through the mail/she got a letter postmarked Argentina." (I Didn't know the post office had problems as far back as 1985.)

Then we get a lot of ooohs and aahs, while a keyboard swirls around that dominant drumming, some light guitar work adding more nuance.  After awhile, you realize that her ooohs and aaahs have transitioned to her saying "Bue . . .nos . . .airrr . . . eeees."
The character's fear of flying, of falling in love, emerges before again we get lost in vocalizations that eventually create that haunting "Bue  . . . nos . . . airrr . . .  eees."  Before we know it, because we keep getting caught in the medium and not the message, she's lost several things, maybe her shoes, certainly her wallet, "but she never lost her nerve." If this is some powerful narrative about the wallflower spreading her wings, it sure would be nice to see that more clearly.

And then we are told that "you can cry me a river. You can cry me an ocean. Call me a fool. You can call me anything." But "when I arrive, will I know you?"  And then it's done. What the frig? Is the "I" the letter sender? I kind of like this idea of trying to lure my mousy, insecure lover to Argentina, the very act of which might make her less mousy.
Of course, in 1985, I had been in competition with an Argentinian guy for a girl (I lost miserably), so if I had figured out these lyrics back then, I would have had a whole separate feeling about this song's swarthy male character.
However, I really don't know. And if I hope to convert one more person to The Golden Palominos, my case is weak.
By the way, there was a singer besides Stipe on one song who led me to buying the album: John Lydon (Johnny Rotten). His "The Animal Speaks" included none of the irony of the album title.  The lyrics there, too, were hard to discern, but who cared. "The Animal Speaks" allowed the Palominos to stretch the indulgences of fans who wanted a set sound. Hate to tell you this, Anton, but you really made it hard for people to dig your pretty songs.

"Buenos Aires." The Golden Palominos. Visions of Excess. Celluloid. 1985. Link here.
Day 125: The Temptations "Papa Was A Rolling Stone."
Day 127: The Romantics "What I Like About You."->
See full unfinished list here.